In 2004 Kristen Karinshak learned that in the villages of Burkina Faso, West Africa, mothers and children have to walk up to 6 hours with heavy jugs on their head to get water for their families, she decided to take action. At age 15, she co-led her first fundraising event, by organizing 15 teenagers to start WALKING FOR WATER. They raised $53,000 that built 5 wells for the Dagara people.

Kristen realized this was just the beginning of what is needed for the poorest country in the world. The wells provide clean sustainable sources of water, but 5 are not enough to combat the remaining water sources that often contain disease. She also learned that there are droughts of many kinds: of medicine; of education; of culture and of rain. Drought kills the crops, and starvation, lack of schools and medicine drive many villagers to the overcrowded, poverty-stricken cities and could destroy the entire culture. In 2005 $82,370. was raised to begin to provide for these needs.
WALKING FOR WATER is devoted to giving the waters of life to the Dagara. It combines village wisdom with Western drilling technology, medicine and funds for education. The goal: to reclaim the land and the rich culture it sustains.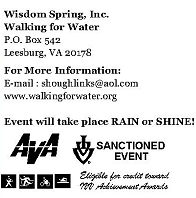 Our Goal:
The 16 teenage committee members plan to increase their commitment by raising $100,000.

Date & Time:
Saturday, May 19th at 8:30 am. Pick up T-shirts and turn in fund-raising contributions starting at 7 am

Where & How Far:
Morven Park's Equestrian Center
Leesburg, VA
10K ( 6.2 miles) or 5K ( 3.1 miles)

Registration Fees:
$20 per adult
$10 per student 18 & under

Mail a check or register with visa online through May 13th at:
http://www.signmeup.com/50536

Registration Deadline:
Please mail your registration by April 30th. After that you can register online until May 12 or sign-up on May 13th at the walk.

Volkssport Credit:
This walk is sanctioned by the non-profit American Volkssport Association (AVA), a member of the International Federation of Popular Sports (IVV); those who register and participate are eligible for credit toward IVV Volkssport Achievement Awards.