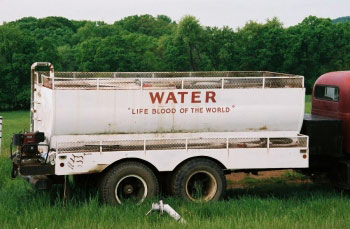 Take a walk on a Saturday morning and bring water to hundreds of people who don't have it.
WALKING FOR WATER The story

When Kristen Karinshak learned that in the villages of Burkina Faso, West Africa, mothers and children have to walk up to 6 hours with heavy jugs on their head to get water for their families; she decided to take action. In 2004, at age 15, she led her first fundraising event, by organizing 15 teenagers to start WALKING FOR WATER. They motivated 400+ people to participate and raised $53,000 to build 5 wells for the Dagara people. She realized this was just the beginning of what is needed for the poorest country in the world. The wells provide clean sustainable sources of water, but 5 are not enough to combat the remaining water sources that often contain disease. She also learned that there are droughts of many kinds: of medicine; of education; of culture and of rain. Drought kills the crops, and starvation, lack of schools and medicine drive many villagers to the overcrowded poverty stricken cities; which threatens the loss of an entire culture.

Join us for a walk in the country at beautiful Morven Park Equestrian Center to raise money to bring water to the Dagara people of West Africa.

Think about this:
· We use 25 gallons of water to take a bath.
· Everyday Dagara women walk miles carrying approximately 25 gallons of water on their head for the tribe to use.
· We use 1.6 gallons of water to flush the toilet, about 20 gallons per person per day.
· The Dagara don't have plumbing, water is obtained from creeks and hand-dug wells.
· We use a half gallon of water to brush our teeth.
· Dagara children walk with their mothers and start carrying water at age 3 or 4.

Get Your Family & Friends Involved
Share a Memory, Exercise and Raise Money that will Change Lives Forever

Fill out and mail the enclosed registration form with your entry fee. You are welcome to make an additional donation along with your entry fee. If you prefer you can go online to http://www.signmeup.com/50536 where you can register or make a donation until May 5th, 2004.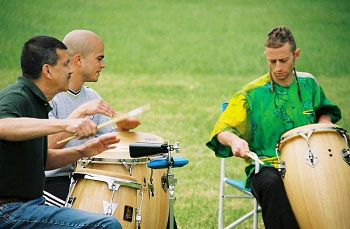 Fund-Raising Prizes
You don't have to walk to compete in the fund-raisers contest. Prizes will be awarded to the top fund-raisers in both adult and student categories. Generous prizes have been donated by area businesses. There will be two top prize packages and many runners-up awards given. All donations must be turned in before the walk on May 8th to be eligible. If you have a prize to donate for the fund-raisers please call Susan Hough at (703) 505-5152.

Post-Walk Celebration Join us for a celebration after the walk. At approximately 10:45am we will reveal the fund-raising winners, give out prizes and announce the grand total raised for the wells. Author/teacher Sobonfu Some' will lead us in a water celebration. She started carrying water for her tribe at age 4 and is excited to now be carrying water back to her village through the generosity of the West.


---
Registration Form
Yes! I am participating in the Fundraising contest. I understand I must collect and turn in all donations on Saturday, May 7th before the walk.

PLEASE PRINT LEGIBLY

Name_________________________________ Sex F / M
Address_________________________________________
Suite/Apt.____________ T-shirt Size: S M L XL
City_________________ State______ Zip____________
Age____ Birth date_______ Phone()____________
Email Address___________________________________
How did you hear about us?__________________________________________________________________________
Registration Fees: $20 Adults / $10 Students (18 & under)
Make checks payable to: Wisdom Spring, Inc.

Waiver and Release: I understand that participation in activities of the organization may involve hazards.I understand that I should not participate unless medically able. I assume the risks associated with involvement in these activities including, not limited to, falls, contact with other participants, effects of weather, road, path, and traffic conditions, these risks be known and appreciated by me.Having read the Waiver and Release and considering the acceptance of my application, I, for myself and anyone entitled to act on my behalf, waive and release Wisdom Spring, Inc. and Morven Park and all sponsors and hosts, their representatives and successors from any claim or liability arising from involvement in activities of the organization.

Signature_________________________ Date____________

If participant is under age 18 parent signature is REQUIRED

Parent Signature________________________________ Date_________

Mail form & check by April 25 to:
Wisdom Spring, Inc.
Walking for Water
P.O. Box 542
Leesburg, VA 20178
OR
Register online through May 5th at: http://www.signmeup.com/50536